Vertical Dock Lockers in Stone County, MO
Our aluminum vertical dock lockers are highly practical for docks because they utilize upward space, rather than take away from precious floor space. If you're looking for a secure aluminum vertical locker that will bring practicality and utility to your dock, turn to Stow It Safe Dock Lockers Company, Inc.! We've manufactured custom vertical lockers for boaters throughout Stone County, MO, and we offer delivery and installation to nearby areas. Shipping is available nationally.
Built Tough, Made to Last
Our vertical storage lockers and dock boxes are made of 1" aluminum square tube, wrapped in 26-gauge galvalume steel for superior longevity and reliability. This isn't just another fiberglass locker—this is a hardy storage locker that'll keep your belongings safe and secure. We promise our lockers will stand up to weathering, water and the elements, as well as frequent wear and tear.
Benefits of Vertical Lockers
Why have a vertical secure storage locker installed on your dock or launch point? Because there's no beating the practicality of these simple, yet versatile amenities. Here are some of the great benefits of having a vertical storage locker:
Easy to stow your gear and personal belongings securely
Small footprint utilizes vertical space for convenient storage
Durable construction stands up to weathering and wear
Hanger rods and ventilation allow wet suits to drip dry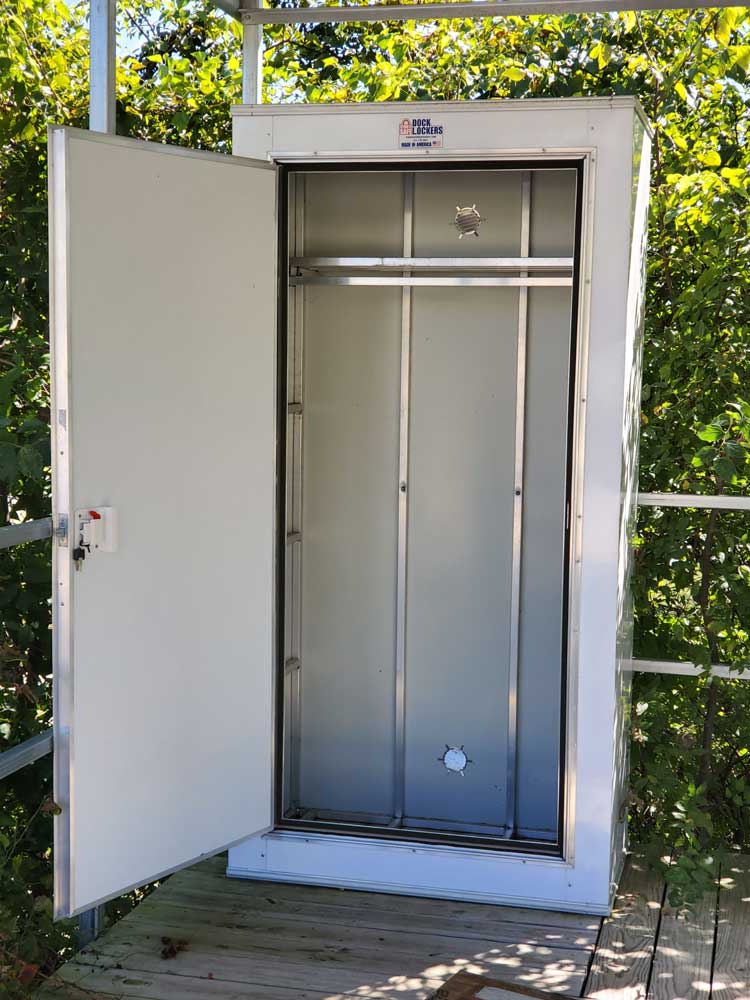 Standard vs. Deluxe Vertical Lockers
We offer both standard and deluxe vertical locker options, depending on your storage needs. Both options are easily installed on piers and launch points throughout Stone County, MO:
Standard
42″ wide X 84″ tall X 24″ deep
One top shelf and hanger rod
Fits between columns on 48″ finger
Standard Galvalume Finish $1,199
Galvalume w/Baked Finish $1,299
Deluxe
42″ wide X 84″ tall X 24″ deep
Comes with two dividers
Features one large shelf
Includes three small/removable shelves
Fits between columns on 48″ finger
Standard Galvalume Finish $1,299
Galvalume w/Baked Finish $1,399