Custom Made or Standard Sizes Available

Made Locally in the USA
Satisfaction Guaranteed!
Aluminum Boat Dock Lockers in Lampe, MO
Stow It Safe Dock Lockers Company, Inc. has manufactured vertical and horizontal locker boxes since 2012, bringing peace of mind to boaters throughout Lampe, Kimberling City, and Stone County, MO since then. We construct our dock boxes with thick aluminum and high-gauge galvalume steel, for a weatherproof, wear-resistant, totally secure solution to stowing your gear and personal belongings. Contact us today to learn more about our aluminum boat dock lockers or to customize one!
Vertical- and Horizontal-Style Dock Boxes
Whether it's paddleboards and sticks, life jackets and floaties, or your clothes and accessories while you're out on the water, every boater needs a secure storage solution back on the dock. A secure dock storage box will help you maintain all your boating equipment, while keeping your inventory protected and easy to access. Stow It Safe Dock Lockers Company, Inc. builds the most secure, most resilient, most reliable dock lockers out there!
Customers around Lampe, MO have been using our storage lockers since 2012 and we're proud to have an established reputation as the foremost secure dock storage manufacturer. Unlike flimsy lockers produced in bulk, made of fiberglass or plastic, we give our customers a truly secure and resilient product. Our horizontal and vertical storage options are made of 1" aluminum and wrapped in high-gauge galvalume steel for unmatched quality and durability. You'll never have to worry about water, wear or the elements taking their toll on our lockers! They're built to last, better than anything else out there.
Because we're the OEM locker manufacturer, we try to be as accommodating and flexible as possible with our products. We have standard and deluxe sizes available, and can fabricate any size locker you might need based on your specs. We also deliver and install lockers throughout Lampe, MO! Choose from standard galvalume finishes or a baked-on enamel (white) for a clean, polished look either way. You'll love the aesthetic and utility of our aluminum boat dock lockers, as well as the practicality they offer on your dock!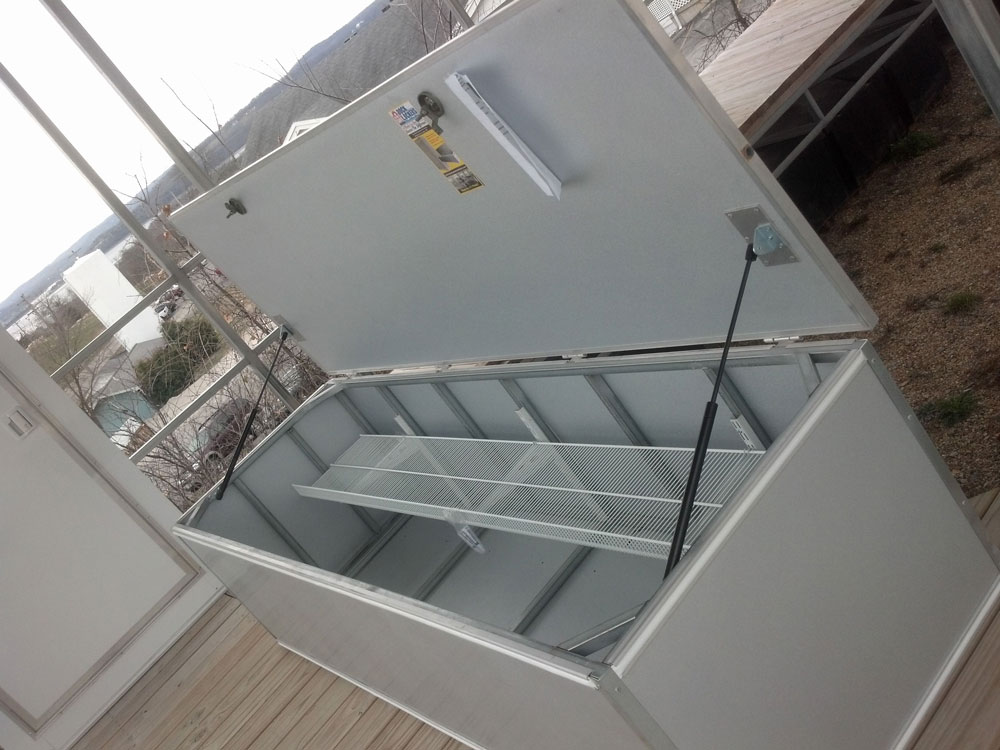 Our durable lockers are made of aluminum, wrapped in high-gauge galvalume steel.
While we offer lockers in standard sizes, we're happy to customize sizes for your needs.
Our storage lockers and dock boxes are weatherproof and wear-resistant, for longevity.
Delivery and installation available locally in Lampe, MO; we ship nationally.
Customers have relied on our lockers and dock boxes since 2012!
Protect Your Gear
From wakeboards and paddles to boating equipment and personal belongings, you need a place to stow your gear that's safe. Nothing is safer or more secure than one of our dock lockers!
Aluminum boat dock lockers are available for pick up at our facility. We also offer local delivery and installation or we can ship to your location!!
Kimberling City, MO
Lampe, MO
Blue Eye, MO
Reeds Spring, MO
Shell Knob, MO
Cape Fair, MO
Galena, MO
Point Lookout, MO
Branson, MO
Golden, MO
Ridgedale, MO
Hollister, MO
Walnut Shade, MO
Rockaway Beach, MO
Eagle Rock, MO
Powersite, MO
Spokane, MO
Crane, MO
Ponce De Leon, MO
Kirbyville,MO